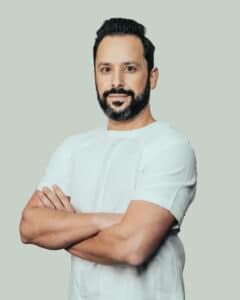 Languages spoken: Dutch (professional level), Portuguese (mother tongue), Spanish, English, and Italian.
At Apollo: Monday to Thursday
Ricardo Brandao Vieira
Orthodontic dentist
After obtaining his Dentistry degree from the university of Sao Paolo, Brazil in 2001, Ricardo specialised in Orthopaedics and Orthodontics from 2002 to 2004. Then he achieved his 2-year Orthodontics Master's Degree at the same university in 2008.
He regularly travels the world as a sought-after speaker on orthodontics and oral rehabilitation.
What he loves about his job as an orthodontic dentist is that it is a great mix of technical skills and effective client care with a fun way of communicating.